Learning, growing, discovering together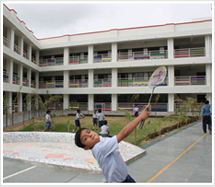 About Us
I.D.P school, Motera is a co-educational school which offers CBSE board ( Proposed ). The school has partnered with " teach next " to bring in world-class technology enable educational infrastructure and learning environment to support curriculum delivery. I.D.P intends to inculcate practical learning environment to make education more meaningful.

I.D.P provides children with a truly holistic education while ensuring they have a joyful childhood. Our campus provides a perfect blend of modern amenities and natural surroundings that are ideal for learning and exploration. Dedicated and talented faculty who challenge, inspire and nurture, a carefully planned curriculum and customized extra-curricular activities helps a child's all round development.
Admission Procedures
The entry point to the school is lower kindergarten, to which children aged 3+ are admitted. Admission procedure includes discussions with parents and activities with children. Candidates are selected via a grading system as recommended by the CBSE.

For admission queries parents are requested to contact the school office.

Admission to other classes depend on the vacancy existing in the respective class. The procedure involves admission test followed by interview before the candidate is selected for admission.
Our Advantage
Teaching methodology
Technology enabled classrooms
Creative teaching
Extracurricular
Strategic location
Parents talk
Philanthropic & Social Initiatives
Umata gramin school was the outcome of social & emotional consciousness of IDP Family. The gramin school imparts free education to more than 1500 children of the under privileged strata of the society. Our staff & team are helping with educational guidance & other educational aids.
Copyright © 2012 I.D.P Education campus. All rights reserved.
Powered By :
Adit Microsys